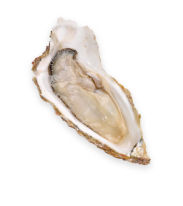 The reason why I decided to spread Hinase kakioko was because I wanted to let people
know more about kakioko(oyster-okonomiyaki) and to convey the deliciousness of kakiyoko.
And now, gradually, Japanese food "OKONOMIYAKI" is spreading all over the world, and it
is being eaten all over the world.
In the future, I would like to spread kakioko so that people all over the world can eat it just
like okonomiyaki.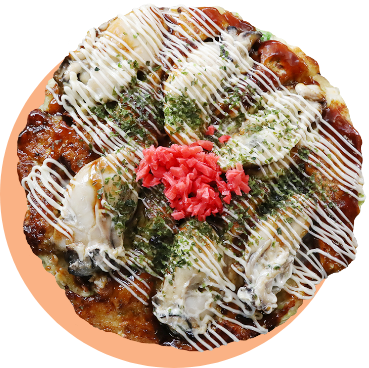 What is Kakioko?
Hinase's specialty, "Kakioko," is made from thick, rich, juicy oysters caught in Hinase and topped with plenty of okonomiyaki!
Because it uses fresh oysters, you can enjoy the texture of the oysters without shrinking even when baked.

Hinase oysters
Changes in the seawater temperature in Setouchi are said to be perfect for the growth rhythm of oysters. Surrounded by the islands, the Hinase Sea has calm waves and is a "fertile sea" with abundant outflow of nutrients from the islands, so it grows fast and contains plenty of minerals.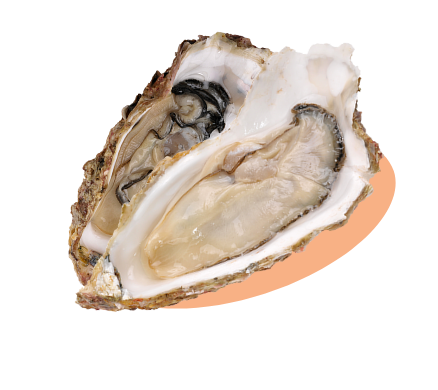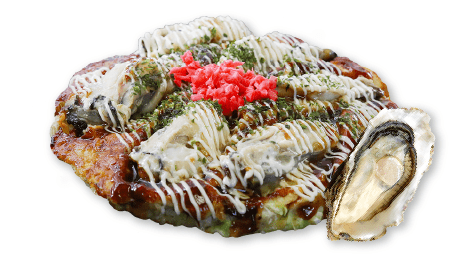 Kakioko
¥900~
Our okonomiyaki is made with Kansai-style dough, with plenty of yam and dried‐bonito shavings.
The cabbage is cut into 1cm pieces and 5mm pieces, and blended to give it a crunchy and fluffy texture.
For the sauce, we use "kakioko sauce" made by a local soy sauce brewery.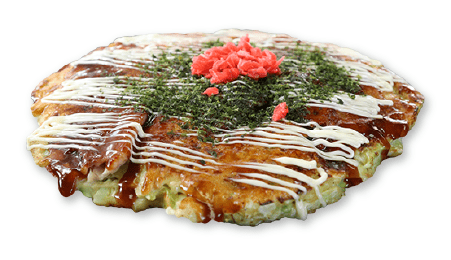 Okonomiyaki
¥550~
We offer a wide variety of dishes, including the classic "Butatama" (pork), "Koro" (beef tendon and Konjac cooked in sweet and spicy sauce), local shrimp, octopus, and squid from the Japan Sea.Toppings are also available, so you can enjoy a variety of ingredients.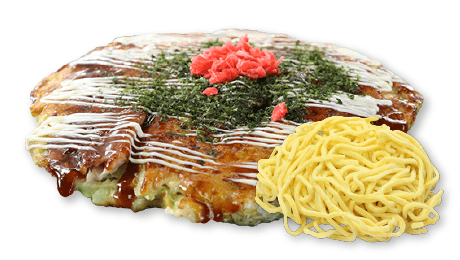 Modern yaki
¥800~
Modern-yaki, which is okonomiyaki with yakisoba noodles, is a hearty dish and offers a different taste and texture from okonomiyaki.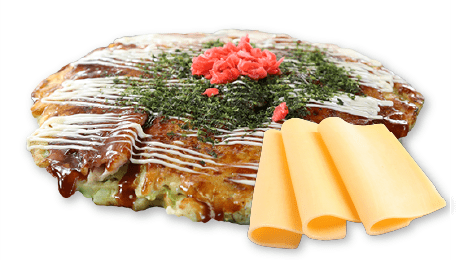 Cheese okonomiyaki
¥800~
Our cheese okonomiyaki has a rich flavor due to the combination of the cheese in the okonomiyaki and the melted cheese that is added on top afterwards.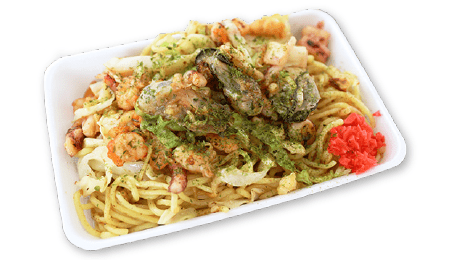 Yakisoba
¥550~
You can choose from our original sauce yakisoba or salty yakisoba with a thick salt sauce.We also have a new menu item called "Hinase Umi no Soba," which is a seafood yakisoba noodle dish made with plenty of seafood from the sea in Hinase